Guide: Nowadays, more and more people prefer driving cars for their public transportation. And car phone holder become a essential item to keep you safe and secure when driving. Making calls, getting turn-by-turn directions and voice navigation are all for you to use, either in place of or as a supplement to the options in your car.
Due to small size & no blocking driver's sight, many people would choose a car air vent phone holder instead of other types.
As a professional supplier with over 23 years experience, Chuanglong learns from customers' feedbacks and keep developing different types of car air vent phone mounts for our customers. Now let's have a brief look about Chuanglong's car vent mounts.
1. Claws Mechanism
This type is basic car air vent clip of our products. Adopt stainless steel and silicone for the claws, just need to insert AC vent with your strength. All of them can suit vertical or horizontal AC vents.
The first type is four claws design (Model#H79-3) , there are two gaps between the four claws-one wide gap and one narrow gap, to suit different thickness of car air vent blades.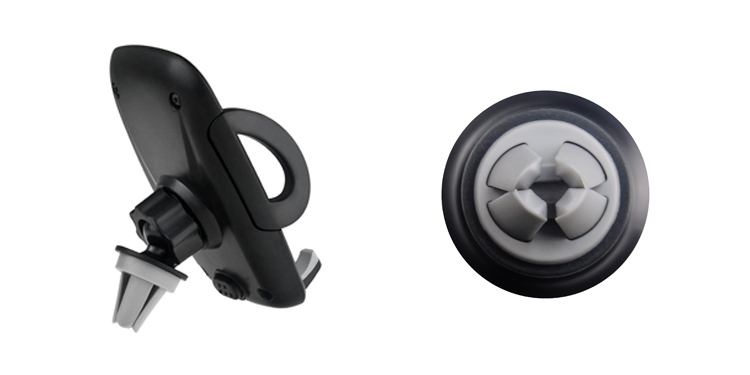 The two claws clip (Model#89) is new version from four claws, it is suitable for universal thickness of car air vent blades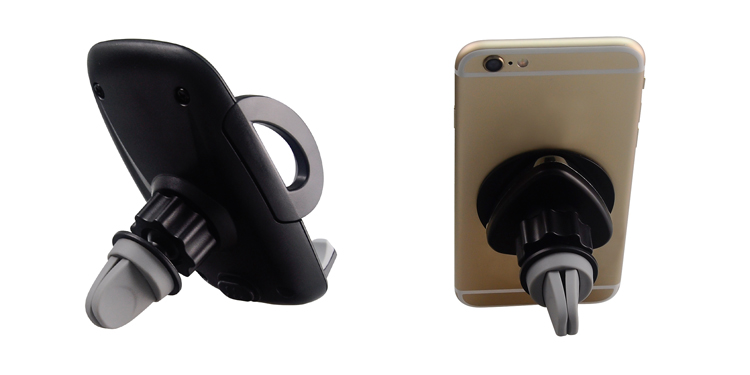 To increase stability and make it more secure, we updated the two claws clip to double clips mount (Model#H118) as below: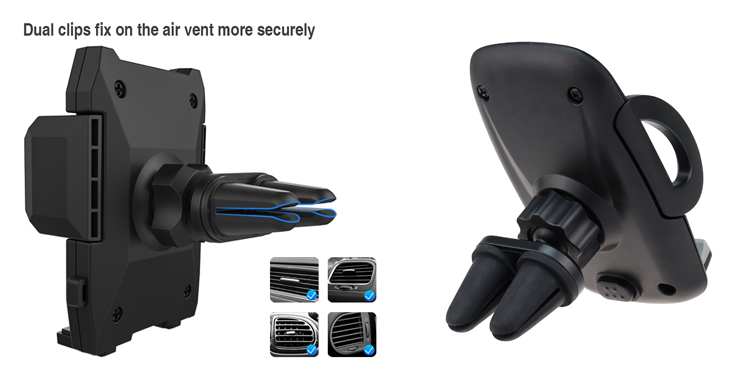 2. Locking Level Switch Design
Different from the claws clip design, this type of air vent clip has no need to insert car air vent with your strength, you just need easily flip to install or remove the car phone mount from air vent. They only suitable for horizontal AC vents.
The first model is our two locking positions air vent mount (Model#H93), it has two locking levels: Direction 1 suits 2.5-3.5mm car air vent blades and Direction 2 suits 1.5-2.5mm car air vent blades.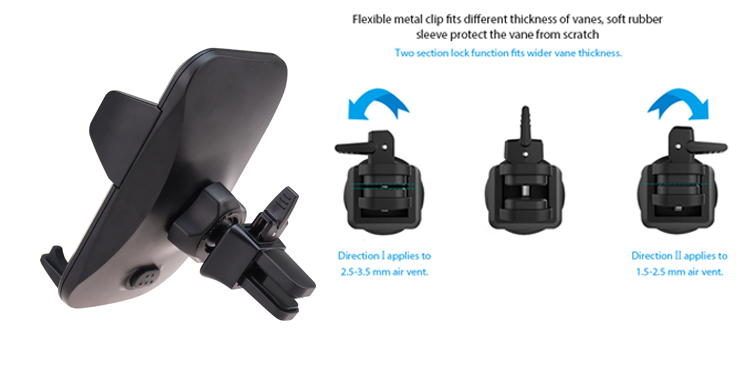 For suiting more different thickness of car air vent blades, we have upgraded version with three locking positions, can fix on car air vent more firmly (Model#H109), which is made of high quality PC material, see the glossy appearance: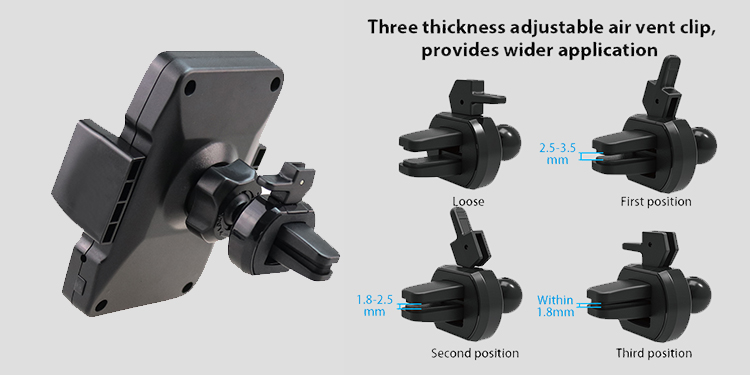 To increase the durability and product lifetime, we add metal pieces inside the three locking position mounts, which makes us our hot selling car vent mount (Model#H116):
3. Twist-to-lock Design
It is the type that you just need to insert car air vent and twist the turning knob to fix the air vent mount firmly on AC vent. And both of them has the AC vent supporting clip designed to keep the car holder stabilized on the air vent and reduce stress of vent and hold it tight. This type only can used on horizontal AC vents.
Model#H117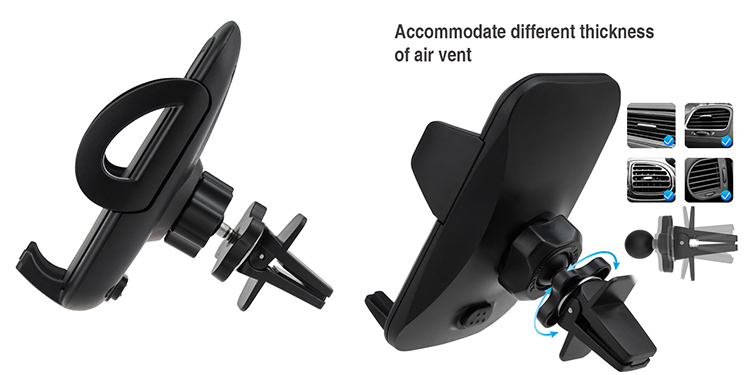 Model#128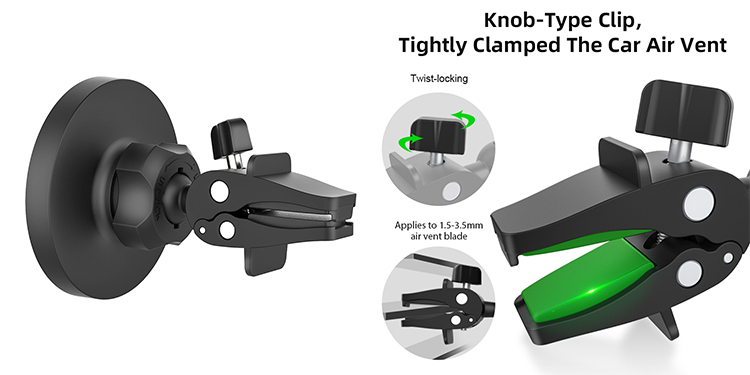 4. Anti-Shake Hook Design
These type of AC vent phone mounts become more and more popular recently, they mainly adopt hook to hook the AC vent blade, and they have supporting feet designed to prevent shaking.
Model#H97
This model adopts a easy flip to lock the two rubber-covered metal hook, and with two supporting feet, only can used on horizontal AC vents.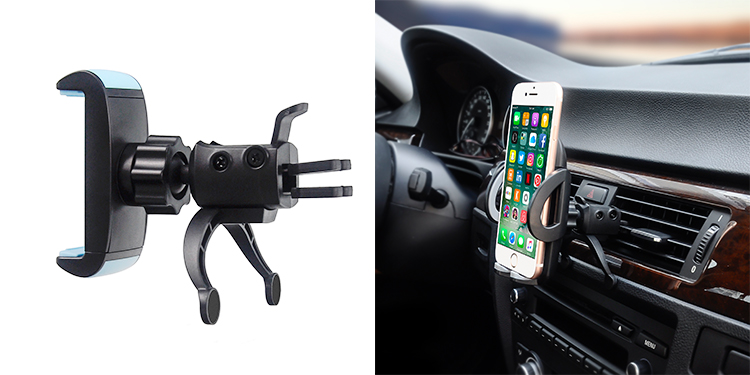 Model#119 is upgraded version of Model#H97, which has a rotatable supporting feet to suit both vertical or horizontal AC vents.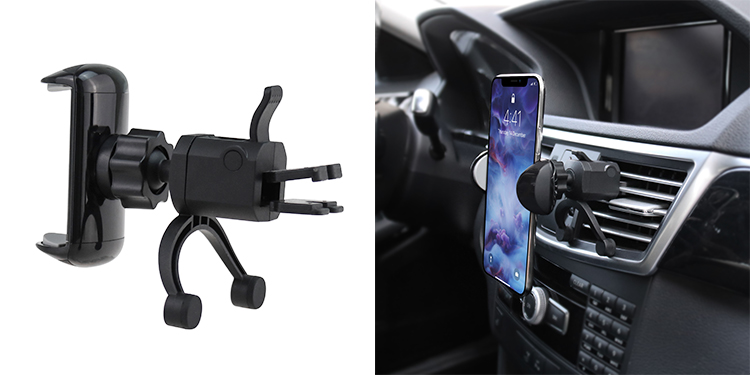 Model#136
This car phone mount adopts  latest screw mechanial lock design which holds your phone securely to the vent. Screw the clamp and the rubber clip hook will catch one of the car air vent blades tightly, even if you hit a bump or a sharper turn. After take few seconds to install it well, which won't distract you from driving. This model suits both vertical or horizontal AC vents.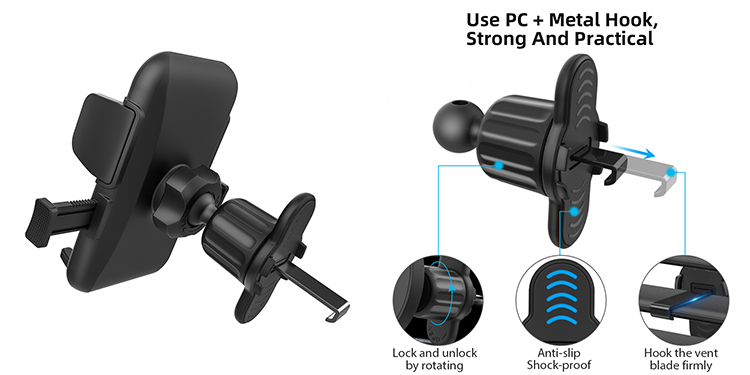 Model#141
This model latest is the improved vent clip that is made from the most advanced durable sturdy aviation-grade materials,it is the first phone mount car to pass most extreme test on the market, making it more resistant to abrasion and corrosion.This model suits both vertical or horizontal AC vents.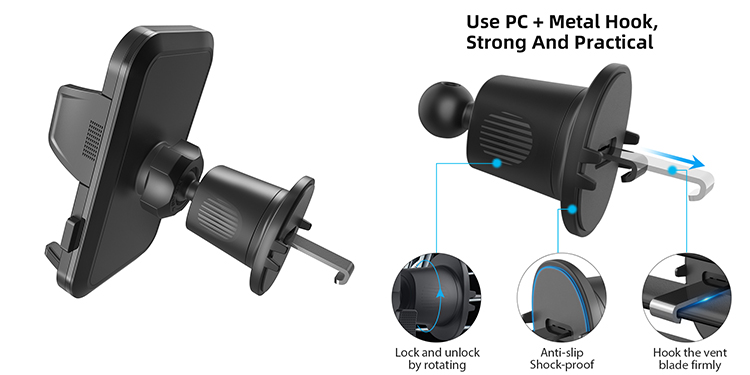 Now, models above are all of Chuanglong's car air vent mounts. You must have seen some of them in the market. All of them are with our own patent and compliant with REACH /ROHS /CP65 standard. 
Do not hesitate to contact us if you are interested. Samples are available.